Quelques documents d'histoire postale. Ces documents ne sont pas à vendre.
Some postal history items. These documents are not to be sell.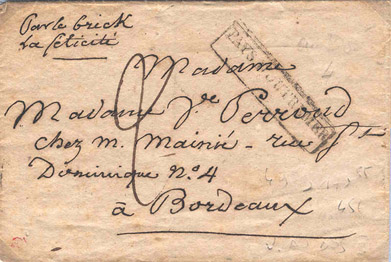 Pli de la Martinique pour Bordeaux avec cachet « Pays d'outremer» ;
routage à la main « par brick le Félicité » Taxe = 2 décimes
Maritime entry cancellation; carried by the brick Félicité Maritime tax = 2 décimes (i.e. 20 cents)
Oblitération de fantaisie émise à Broadwater utilisée pendant 5 jours du 13 au 18 juin 1928.
Elle représente une goélette à deux mâts gréés de deux voiles trapézoïdales et d'un foc
Fancy cancellation issued at Broadwater from 13 to 18 June 1928.
It shows a two masted shooner.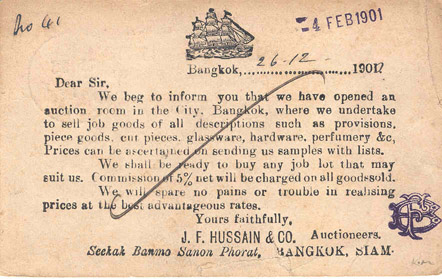 Entier postal (carte réponse) du Siam, de Bangkok (26-12-1900) pour l'Angleterre
Postal stationery from Bangkok (26-12-1900) to England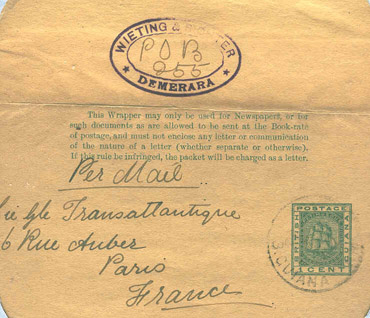 Bande d'expédition de journal de Guyane britannique. Second tirage de 1884. Cachet D34 utilisé du 10/12/1901 au 12/2/1906. Au verso, cachet de l'expéditeur (Wieting et Richter, province de Demerara.)
Postal stationery (wrapper) from British Guyana. Second issue in 1884. D34 cancellation used from 10/12/1901 au 12/2/1906.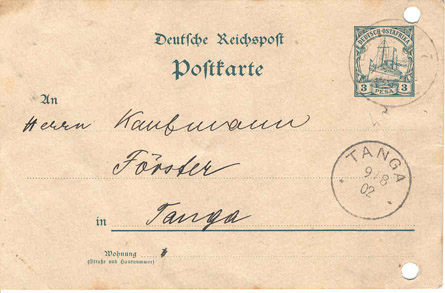 Entier d'Afrique Orientale Allemande avec valeur en Pesa ( 1900/1905 ).Cachet de Tonga 9/8/1902.
Le même type existe avec carte réponse attachée.
Postal stationery from East German Africa with value in Pesa ( 1900/1905 ). Exist also with answer card attached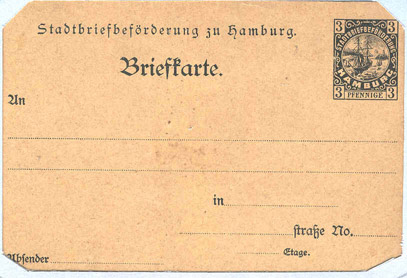 Entier de la poste locale de Hambourg émis en août 1887
Private post in Hamburg issued in August 1887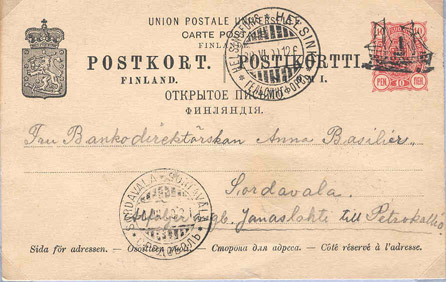 Entier postal de Finlande (administration russe) avec oblitération Helsinki du 20-6-1900 ; cachet de poste maritime « bateau à vapeur » de 24 mm utilisé de 1894 à 1907 ; timbre à date d'arrivée à Sordavala (Carélie)
Postal stationery from Finland (Russian administration) Stemer cancellation of 24 mm used from 1894 to 1907.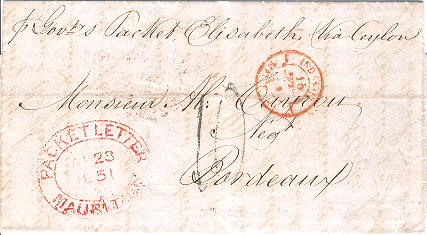 Pli de Port-Louis (Ile Maurice) du 22/8/1851 pour Bordeaux (cachet d'arrivée au verso 18 octobre 1851) Cachet Mauritius packet letter du 23 août, sous-type B, utilisé de 1850 à 1857 ; cachet à date d'entrée « INDES OR 1 MARSEILLE 15/10/51 » ; taxe tampon 10 pour les 10 décimes entre Alexandrie et la destination finale.
Letter from Port-Louis (Mauritius, 22/8/1851), arrived on 18 October 1851. "Mauritius packet letter" cancellation, cancelled at Marseilles ("INDES OR 1 MARSEILLE 15/10/51"), tax 10 decimes for maritime travel between Alexandria and Marseilles.
Any information on the ship Elisabeth (a fast schooner ?) welcome.