The scientific research in Antarctic as in Arctic has always required specially conceived ships. First they allowed to discover isolated lands, then at 19th and 20th century transport and supplying.
Here is the history of some ships which mark the history of Southern and Antarctic French Territories.

This overseas territories is composed of 4 districts :

<![if !vml]><![endif]> on Antarctic continent , Terre Adelie, Dumont d'Urville base, by 140° 01E 66° 40S

<![if !vml]><![endif]> St Paul et Amsterdam islands, Martin de Vivies base, by 77° 32E 27° 41S

<![if !vml]><![endif]> the 5 Crozet islands , Alfred Faure base, by 51° 52E 6° 24S

<![if !vml]><![endif]> Kerguelen archipelago , Port-aux-Français base, by 70° 13E 49° 21S

AMSTERDAM island is discovered by Juan Sebastian de El Cano, on board of VICTORIA , taking back the 18 survivors of Magellan expedition .

The caraque displaced less than 90 tons ; she was a loading ship, heavier than the exploration caravels of Caribbean.
In 1771, Nicolas Marion-Dufresne receives two flutes Mascarin and Marquis-de-Castries.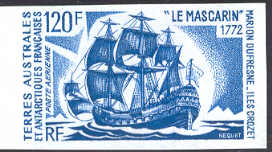 Colour test
After having rejoined Bourbon island then Capetown, left on 28-12-1771, the ships sail to south ; two weeks later, they discover Austral islands (Marion and Prince Edward Islands); on January 29 , the "îles Froides" (Cold islands) are in view (occidental group of Crozet) ; on January 24, they land on îles Arides (Dry islands), that the First mate, Julien Crozet, will take possession. After a call in Tasmania, they land on New-Zealand where Marion-Dufresne is killed after a 3 months stay.
Two French flutes, La FORTUNE and le GROS VENTRE, mastered by the knight de Kerguelen-Tremarec form an expedition in the Southern Seas and on February 14, 1772 they sail in front of Fortune islands. A second expedition occurs in march 1772 with the vessel Le ROLLAND and the frigate L'OISEAU.
ASTROLABE
LA COQUILLE, a gabare of 380 t, used by Duperrey in 1822 is a former horses carrier. Jules Dumont d'Urville renamed her ASTROLABE and arrives in front of Antarctic continent on January 19, 1840 and gives her his wife name, Terre Adélie.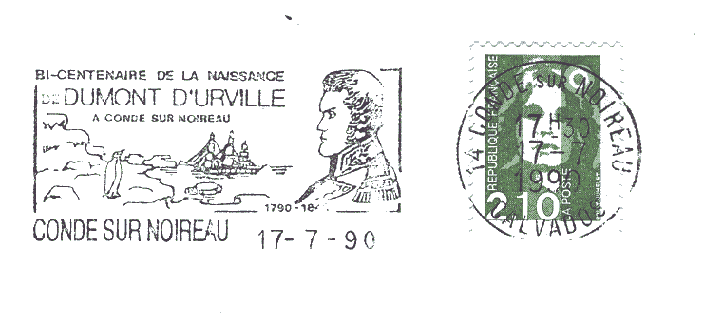 LA NOVARA

This Austro-Hungarian frigate, built at Venice from 1843 to 1850, is selected for a round-the-world scientific expedition from 1857 to 1859. She approaches St Paul et Amsterdam on November 9 1857 for a first scientific mission.

To know more : SMS Novara Home Page
| | |
| --- | --- |
| HEROÏNE | TAMARIS |
| | |
| French royal navy Corvette used in 1887 to check and complete information on Crozet archipelago | Iron barque in service for Bordes from 1877 to 1887 built at La Seyne sur Mer (463 t) wrecked at Crozet island in the night of 8 to 9/3/1887. The three castaways fix an iron plate to an albatross neck to call rescues. |
From 23 September 1874 to 4 January 1875, French astronomers carried by DIVES land on Saint Paul island to observe the passage of Venus in front of the sun.
Mastered by capitaine de vaisseau Mouchez, astronomer, hydrograph and member of "bureau des longitudes", DIVES leaves Saint-Paul for Amsterdam island where the ship calls from 5 to 7 January 1875 before going back to Saint-Denis de la Réunion. Dives is an aviso with three masts of 1 600 tons launched in 1870. The ship is powered by a 600 hp engine and is armed with six guns. Allocated to Indian Ocean squadron, she was based at Saint-Denis de la Réunion. The ship is retired on 5 January 1890.

EURE

Aviso. She leaves Diego-Suarez on 12-12-1892. Calls in Kerguelen then St Paul (22-1-1893) and Amsterdam (24/1/94) before going back to La Réunion and Madagascar. Used to install a food store in St Paul.

YVES DE KERGUELEN

Barque Sunrise, built at Cowes in 1877 (220 gross tons)
She leaves Le Havre on 8-12-1912 with 15 crew and arrives at Cape Town on 14/3 to stay until 12/4/1913. She arrives at Port Couvreux at the end of April 1913 for map making and leaves on July 31 to return to Capetown (23/9) where she is disarmed on 3/12 to be sold on 11/12.
GAUSS is built at Kiel (Germany) in 1900 from a model of FRAM. She leaves Kiel on 11-8-1901 with the expedition of Eric von Drygalski. She arrives at Kerguelen on 31-12-1901 and leaves Observatory bay on 31-1-1902

To know more: http://www.ccg-gcc.gc.ca/usque-ad-mare/chapitre4-5.htm
GAUSS is purchased in 1904 by the Canadian explorer Bernier to take possession of Baffin Land in right of Canada, November 9, 1906.
| | | |
| --- | --- | --- |
| | | |
| | LE FRANÇAIS is a three masted schooner built at St Malo equipped of a 125 hp auxiliary engine. Charcot will realise an important hydrographic work in the West of Palmer peninsula ; the ship will be then sold in Argentina. | |
<![if !supportEmptyParas]> <![endif]>
40 metres long , 9m20 beam, 4m30 draft in load, POURQUOI-PAS is the first polar ship to have crossed the two polar circles .

First ship built in France for a polar expedition , she is equipped of two laboratories and their annexes, of a large dark-room. The ship conceived at St Malo may accommodate 34 crew members.

Rigged as a full-rigged ship, with a tonnage of 460 tons she can reach 11 knots under sails and 8 knots with a 500 hp auxiliary engine . From 1908 to 1910, she winters in Antarctic (Palmer archipelago , in South Shetlands) ; then from 1911 to 1914, from 1920 to 1924 she realises several oceanographic cruises in Atlantic and sails in northern seas.

In 1925, he is the first French to moor on the western coast of Greenland where he comes back in 1931, during the second international polar year . In 1934, he lands Paul-Émile Victor and his companions who will do an important ethnologic work close to Eskimos. At his return, off Iceland, they find force 12 winds which push them on reefs. One single man on 40 will survive to the wreck.
J-B CHARCOT

Ketch of Raymond Rallier du Baty, former crew of le Français (1903-1905).
Dundee of 17 m long, ex -Sacré Coeur de Jesus (Holly heart of Jesus), built in1897 at Boulogne sur Mer as herring fishing ship ; 46 net tons. Leaves Boulogne on 22-9-1907 and joins Rio from 19 until 28/12. then Tristan from 21 to 27/1.
7 Crew. Henry Rallier du Baty is the master ; Raymond, his brother, is the first mate.
Meteorology works in Kerguelen where she arrives on 6/3/1908. Leaves Kerguelen on 3/6/1909. Call in Melbourne on 26/7.
Map making at Kerguelen.
<![if !supportEmptyParas]> <![endif]>
LA CURIEUSE

She is launched in Boulogne (Leon Lefevre yards) on 3 April 1912. Equipped with a 40 horsepower petrol engine (6 knots) 7 crew. Master : Raymond Rallier du Baty.

Boulogne 16-7-1912 Southampton 27-7 Cherbourg 18-9 Madère 29-9 Canaries 10-10 Dakar 28-10 Rio 19-12 Montevideo 9-2 Buenos Aires 14-2 to 17-2, Montevideo 18-2 Capetown 3-7-1913 to 20-9

Kerguelen : from 22-10 scientific mission
20-5-1914 : Amsterdam
16-10 Sydney: disarmed and sold on 13-3-1929 to Compagnie Française d'Océanie (Ramona)

Oak built ketch of 75 GRT ,
20,75 m length.
ANTARES


French Navy Aviso, built in 1915, commissioned in 1930 to mark the national sovereingty on St Paul et Amsterdam.
81 metres long, with a tonnage of 1140, she is manoeuvré par 8 officers and 97 crew. 440 tons of coal give her 3000 miles of autonomy for a maximal theoritical speed of 17 knots.
ANTARES arrives on 16 January 1931 off Crozet, calls at Kerguelen on 22 January and hits Saint-Paul-et-Amsterdam on 10 February before going back to Mauritius on 18 February .
In 1938, to affirm again French sovereignty of France on its austral islands, aviso BOUGAINVILLE, stationary ship in the Indian Ocean and based at Madagascar, leaves Diego-Suarez on 11 January 1939 and, after calls at Vohemar, Durban and Marion islands, arrives off île aux Cochons on 26 January 1939. Because of the bad weather, the ship anchores at Possession island on 29 January and scientifics may land. On 30 January, the ship sails to Kerguelen and arrives in the archipelago on 3 February to tour around the large island. Works of hydrography, geodesy and topography will continue at Port Couvreux until the 19 February. On 23 February BOUGAINVILLE goes back to Amsterdam which is left on 25 for Saint-Paul where scientifiques studies are done on fauna and flora. The mission finished, the ship returns to la Réunion whre she arrives on 3 March 1939, after 8 240 miles.
Characteristics of BOUGAINVILLE : * Length: 103 m * Width : 12,70 m * Displacement : 2 000 t * Autonomy: 7 600 miles at 14 knots or 13 000 miles at 8,5 knots * Power: 3 200 HP by 2 Diesel engiunes* Crew: 14 officers and 121 shipmen * Armament: 3 guns of 138 mm - 4 anti-aircraft guns of 37 mm
Former mines net layer of US navy "Lance Wood" 1943 - wood Length = 55m, width=11m 1460t of displacement 2 electric diesel of 90 horsepower. Becomes French on 28/8/47 (Atiette) at La Guadeloupe.

1- she leaves St Malo on 14/9/48 and calls at Brest (left on 26/11), Casablanca, Durban, Hobart (26/1/49-5/2/50), Casablanca, Durban, Hobart (26/1/49-5/2/50). she cannot cross the ice pack and U-turns to Brest on 11/6/49. The master was frigate captain Max Douguet (YT157) ; P.E. VICTOR was a member of the expedition.
2- Brest 20/9/49, Melbourne 1-12, Hobart 8/12 au 21/12. On 18/1, she moors at Cape of Discovery she left on February 8 . After calls at Kerguelen (7/4), St Paul-et-Amsterdam (13/4), Hobart (23/2-15/3), she arrives at Brest (10-6-50).
3- On October 3 1950 she leaves Brest with 50 crew. After Hobart (12-12 to 28-12) and Port-Martin (9/1/21), they lay down provisions and fuel at Pointe Geologie. The ship left definitively Terre Adelie on 5-2-51 and returns to Brest on 1st of June ; she is disarmed few months later.
TOTTAN

Norwegian whale ship of 540 tons, she replaces the Commandant Charcot : she left Rouen on 11/10/51 for Terre Adelie and arrives in front of Port-Martin on 21/12/51.

After a call at Pointe Geologie on 24/1, returns to Hobart on 1-2-52.
Goes back in 52/53 : Pointe Geologie on 2/1/53 (6 days from Hobart) leaves Macquarie island on 14/1/53 to return to Auckland and Hobart (25/1)



TOTTAN is chartered by Australia for four voyages between 1951 and 1953.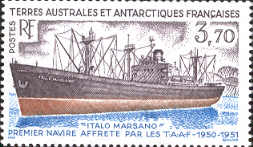 ITALO MARSANO
She left Marseille on 9/11/1950 for Tamatave (Madagascar) where she calls on 10/12 ; at Maurice on 26/12, at Port-aux-Français on 3/1, at Kerguelen from 5/1 to 15/1 ; she is at St Paul- et Amsterdam on 26/1. Returns at St Denis-de-la-Réunion on 12/2.
Built in 1944 at Richmond (California) as a Liberty ship for the US maritime commission under the name ABRAM S. HEWITT. Her characteristics are :
Tonnage 7.176 gross, 4.380 net., 10.865 dwt., displacement 14.245 tons ; powered by a 2.500 ihp triple expansion steam engine, one screw, speed 10.5/11 knots ; She could carry 9.146 tons of cargo ; crew of 81 men.
Sold in janvier 1947 to Cia Transoceanica La Veloce and renamed QUEMAR then ITALO MARSANO. Chartered by Messageries Maritimes in 1950-51, then managed by Andrea Marsano at Genoa. Sank in the South China Sea in 1964.
GALLIENI
Built at Port-de-Bouc in 1954. Supply ship.
| | |
| --- | --- |
| | |
| | Cover of Gallieni with Paquebot cancellation. |
GALLIENI
Built at Port-de-Bouc in 1954. Supply ship.
115.20 m long and 16,10 m breadth, 4120 t, she is designed to serve on the western coast of Madagascar with a capacity of 12 passengers in cabins and 350 deck passangers. Equiped in 1957 of an hélicopter deck, she is used until 1972. From 1967, she serves for oceanographic missions in the Indian Ocean .Sold in 1973, and broken up in 1983. She has been replaced by the MARION-DUFRESNE.
Leaves Diego Suarez on 22-10-55. After a short call in Tamatave, she arrives at Kerguelen (2 until 5-11), Amsterdam (8 to 17-11) and returns to Tamatave on 24-11.

Logistic turn-round. Diego Suarez on 17-4-56 a short call in Tamatave, arrives at Kerguelen (30-4 to 3-5) Amsterdam (6-5-56 to 10-5) and returns to Tamatave on 17-5.

GALLIENI lands men on Possession island on 21/12/61 ; on 27/12 the ship calls at Kerguelen and on January the 5th at St Paul et Amsterdam. A second turn round occurs at Crozet from Kerguelen on 3 and 4 February ; a third one occurs at the end of the year 62.
NORSEL

Norwegian polar ship of 600 t chartered for IGY after use for Norwegian-British-Swedish Antarctic Expédition of 1949-52.
Leaves Rouen on 16/10/55 and arrives in front of Pointe Geologie archipelago on 1st January 1956 after calls at Algiers, Aden, Maurice and Hobart. Carries the gear to built Dumont d'Urville station . Leaves on 26/1, calls at Hobart on 2/2/56 and returns to Cherbourg on 1st April.

ST MARCOUF

Liberty-ship built in 1945 by New England Shipbuilding Corp as John Robert Gordon.
1945 Lease lend to French Gov't.
1946 French Gov't (Cie Generale Transatlantique)
1947 SAINT MARCOUF, same owners / managers.
Transfered in 1950 to Messageries Maritimes
Sold in 1960 and scrapped in 1963 at La Spezia.
These two Danish freighters specially conceived for the polar seas, have similar dimensions : about 75 metres long.
| | | |
| --- | --- | --- |
| | The helicopter is carried on the forward deck. | |
THALA DAN built in 1957 Gt 2183. Ice strengthened, equipped with a controllable pitch propeller, THALA DAN is chartered by France to service its base at Dumont D'Urville. In 1975 she was rebuilt at

Frederikshavn Vaerft, Danemark. The bridge was enclosed, an extra deck with cabins was added, and a helicopter pad was installed. The stamp shows her after the rebuild.

MAGGA DAN built in 1956.
Tonnage 1.957 gross
Accommodation for 36 passengers in two berths cabins. Was also fitted out with a hospital. Did have a large crownest in her foremast which contains all the navigation instruments for a safe passage through the ice.

In 1961/62, she is chartered by Expéditions Polaires Françaises.
TAAF chartered for the seasons 1982/83 and 1983/84 the canadian ship LADY FRANKLIN .
Launched as BALTIC VALIANT in 1970, 2124 Gt, long of 103.42 m, she is powered by a MAN diesel engine of 4.050 hp., at 15 knots.
Bunker capacity 344 cubic meters.

Three cranes for cargo handling, two of 10 tons, in combination 20 tons, the third of 5 tons.

Used in the fortnightly year round cargo liner service between England and Finland via the Kiel Canal.

, she is chartered by C.A. Crosbie Shipping Ltd. of Newfoundland and renamed in LADY FRANKLIN .
Crew 15, passenger capacity maximal 65.
| | | |
| --- | --- | --- |
| In 1988, Ferronia International Shipping, FISH, subsidiary of Compagnie Nationale de Navigation, takes back the Canadian ice-breaker Fort Resolution. | | Built by Fergusson yards at Glasgow, FISH gives her the name of Terre Adelie discovery ship, ASTROLABE. |
Equipped of two engines of 3083 hp, with a maximal speed of 14 knots, she is fitted with layouts for 5 officers, 8 crew and 48 passengers. 65m06 long, 13m large, 4m78 draft, load capacity of 946 tons. Range of 12000 miles at 12 knots. Classified A1 class ice-breaker, she can sail at 3 knots in a 1 metre thick ice-pack. The stern is equipped of a 30 cm thick knife. Every year, she realises 5 trips between Hobart and Dumont d'Urville between December and march.
She replaces the Danish freighter POLARBJORN chartered by Expéditions Polaires Françaises.
POLARBJORN is built in 1975.

Length: 49.62m
Beam: 11.50m
Draught: 5.30m
She is powered by a main engine MAK 9M452AK of 2945 hp and two auxiliary engines Deutz BF6M of 16 208 hp.
Gross tonnage: 949 tons

The icebreaker

POLARBJORN

is bought in 1995 by Greenpeace and renamed M/V Arctic Sunrise.

To see more on:
http://archive.greenpeace.org/~climate/arctic99/reports/mvas.html
http://web.greenpeace.org/ships/ship-detail?ship_id=6721
L'ASTROLABE is in 1991 the second ship after Nordenskjold VEGA to complete a tour of the euro-asiatic continent : left from Le Havre on 27 July 1991, she reaches Mourmansk on August 3 ; she sails through Bering strait on 27, crossing the Nord-East passage and reaches Hakodate, in Japan, on September 2 before entering in the Indian Ocean and the Suez canal.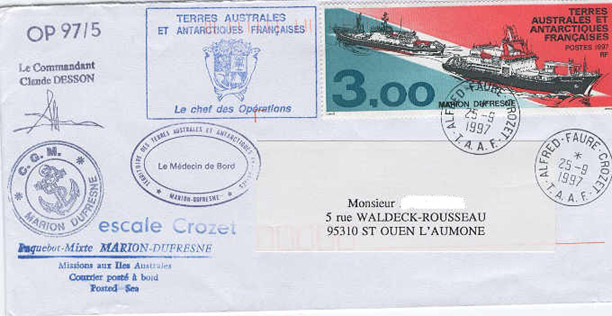 Inaugurated on May 5, 1995, MARION-DUFRESNE II replaces the first MARION-DUFRESNE, disarmed at Marseille on 18 April 95, 22 years later after her first trip on 12 April 73. With 112m10 LOA , a crew of 58, she was able to carry 89 passengers. In 20 years, she sails on the distance equivalent to 59 round-the world !
The MARION-DUFRESNE II is 121 m long, 20m60 large, she can carry 110 passengers in 59 cabins. Diesel-électrique propulsion is done by two lines d'arbres : each 4 bladed screw is driven by a synchronous engine of 3000 kW ; electric power is assumed by a set of 3 Diesel-alternators (2 x 3000 kW, 1x2250 kW). Several equipment allow her to realise research campaigns on sea. She supplies French bases except Terre Adelie, which is linked by the polar ship ASTROLABE.
See other ships in Antarctic on my site: Ships in Antarctic (1) and Ships in Antarctic (2)